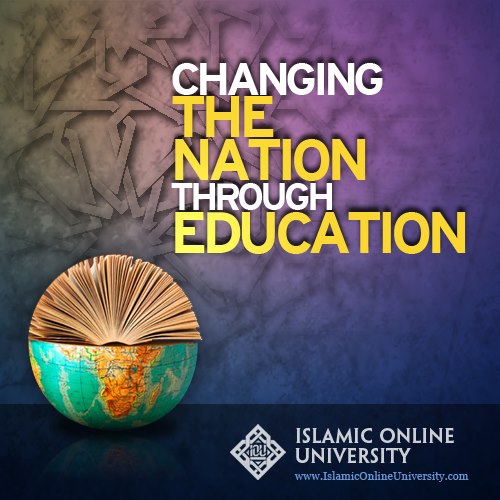 Prophet Muhammed (peace be upon him) is reported to have said,
"Seeking knowledge (of Islam) is obligatory upon every (male/female) Muslim"
We know that to leave out an obligatory act is a major sin. This shows us that it is essential for every believer to have a thirst for knowledge of the religion. Today it is not possible for most of the people to give time or make it to the place where the knowledge of deen is imparted. While the brothers can't spare time from their work, the sisters can't travel to far off places for seeking knowledge. While time restrictions are a concern to some, financial aspect is not manageable for some.
Alhamdulillaah, Allaah has given us an opportunity to provide every Muslim an excellent solution to overcome these basic obstacles for seeking knowledge. Islamic Online University is a unique place of learning which provides a never before opportunity to learn from "anywhere, anytime". Islamic Online University has a completely free diploma section and a completely tuition free degree section that offer world-class Islamic education to Muslims all over the world. No travel required, staying inside the home is where the IOU students learn everything!
Click here to enter into the place of learning that has NO limitations
http://islamiconlineuniversity.com/
LEARN UNTIL YOU ARE PLACED IN YOUR GRAVE
The knowledge of deen is never complete. There can't be a single person on this earth who could claim to have complete knowledge of Islam. There is something or the other that we keep learning until our last breath. Because the "ilm" we are referring to here is the knowledge of Allaah's speech and the explanations and applications of His Messenger (peace be upon him). So this ilm is very vast and there is a new lesson to be derived from the knowledge that you already have, each time you revisit it and a lot more knowledge to be gained.
Imam Ahmad is reported to have said,
"As for me, I will continue to seek knowledge till I am placed in the grave."
He was a man of knowledge. One who was revered for being the most knowledgeable person of his time. But he preferred to continue learning till he was placed in the grave. This shows us that there is no end to learning. And there is no age limitation to seek knowledge.
At IOU, there are students who are just in their early teens and also those who are in their late 70s and 80s! Subhan Allaah, it is a thing of immense pleasure to see the IOU student body comprising students of vast age groups and from different continents. These students enter the same classes with teachers from different parts of the world!
FLEXIBILITY TO MAKE LEARNING POSSIBLE – ISLAMIC STUDIES CUSTOMIZED FOR YOU
Islamic Online University understands that each student is unique and their circumstances are different. IOU programs and courses are completely flexible. It is imparting knowledge that is primarily aimed at anyone who desires to fulfill this obligation to knowledge– in the best possible way for an individual.
FREE DIPLOMA COURSES – Students who can't give fixed time, but would like to learn Islam.

NORMAL BAIS – Students who want to learn an organized degree program and who can put in required time.

ACCELERATED BAIS – Students who can put in more time and wish to complete the degree program faster.

PART TIME BAIS – Students who wish to complete the degree program but can't put in the required time.

IOU Adv Dip – Students who do not meet the requirements to do BAIS, i.e.: those who do not have a High School Diploma or General Secondary Certificate.

IOU Adv Dip in Minors – Students who do not wish to do all the BAIS courses, but would like to study a specific field of Islamic sciences

Audit Courses – Students who wish to learn the BAIS courses with or without taking tests and exams

BAIS SCHOLARSHIPS – IOU provides scholarships to deserving students. So financial difficulties are no more an obstacle for you if you can put in time and commitment!
YOU ARE CARED FOR – ONLINE LEARNING MADE SIMPLE & EASY
Islamic Online University truly cares for the students' needs and provides personalized care and counselling. If you have a problem with your studies, then there is guidance and assistance for you at each step. The IOU team is trained to provide excellent online support to the students in a way that makes online learning hassle free, interactive and interesting.
Each responsible official can be reached through email or phone and the students can expect quick response to their emails on the same day and the IOU staff never gets tired to answer student queries till they know that the issue has been resolved or clarified!
MAKING EASY YOUR PATH TO PARADISE
The Prophet Muhammad (peace be upon him) is reported to have said,
"Whoever treads a path to seek knowledge therein, Allaah makes easy for him (or her) a path to Paradise"
Allaah has made it easy for you to start this journey of knowledge. Its sitting right in front of your computer is how you can register at Islamic Online University and I am sure that you will create an account soon, Insha Allaah. But the steps following that are those which are important. Do not let the enemy of Allaah, the accursed Satan, to let the thought of "not being able to" stop you from taking the future steps up to enrolling into the courses and getting started. True success is in overcoming the negative thoughts and getting started. Register TODAY and start your journey of seeking this obligatory knowledge and we ask Allaah to make it easy for YOU to start your studies at Islamic Online University and help you to gain knowledge of His deen through the beautiful courses and implement it and impart it to others. May Allaah make easy through this for you and your family a path to Paradise (Ameen)
If you have any queries then please write to the committed staff of  IOU who would try their best to make it easy for you to get started and help you at each step after you start, Insha Allaah
Contact Islamic Online University here
info@islamiconlineuniversity.com
Comments
comments