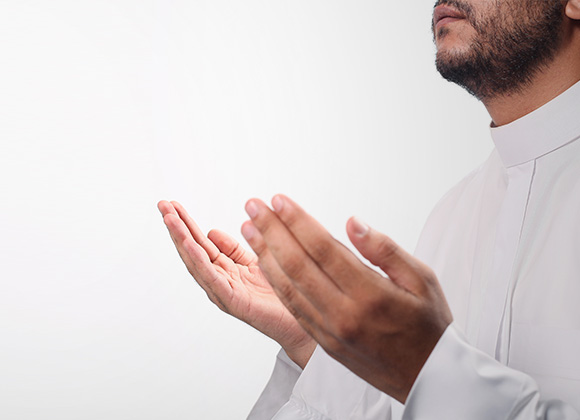 "What's happening to my dua?" This question is on our minds at all times. But have we ever thought why? Where does the fault lie? The answer is quite obvious…..
Allah

, the ever Merciful, is always ready to hear to us. He is waiting for us to ask Him so that He can fulfill it for us. But, are we worthy of His favor? Have we surrounded ourselves and our lives with activities that push us away from this Mercy of Allah? The answer is a resounding yes, at least for most of us. Let's see why:
Haraam Income:
The Messenger of Allah

mentioned a man who, having journeyed far, is disheveled and dusty, and who spreads out his hands to the sky saying, "O Lord! O Lord!" while his food is haram, his drink is haram, his clothing is haram, and he has been nourished with haram, so how can [his supplication] be answered? 1
If every single penny we earn is from haraam sources or is based on interest, how can we expect Allah

to accept our dua'?
Allah

forbade us from riba, yet we consume it as if nothing is wrong! Allah

says that He and His Messenger

will be at war with those who eat riba on the Day of Judgement, 2 but even this does not deter us from giving it up!
How sad is our state that we cannot give up something so small just for the pleasure of Allah

, but we expect Allah

to forgive every sin that we commit and answer our dua'. Selfish we are! 
How sad is our state that we cannot give up something so small just for the pleasure of Allah, but we expect Allah to forgive every sin that we commit and answer our dua'. Selfish we are!
Heedlessness in dua':
Eyes closed, hands raised, lips in motion, words tumbling out of our mouth in a hurry, yet our mind and heart is in a different world. Our thoughts and the words that are racing through our tongue do not match. If this is the level of 'seriousness' we employ to ask Allah 

to fulfill our wishes, I believe the outcome is not a surprise!
Zina:
Some of us ask Allah

to accept our dua' while committing the most heinous of sins. Sins that we are very careful to commit in secret. Yet, we forget that our Lord is watching us when we are at it! So strict is the command about zina, that Allah 

instructs us not to even approach it, let alone fall into it. 3  And when the zaani 4 has committed this shameful act, he turns to Allah 

with this heavy pile of evil deeds asking for His bounties! SubhanAllah! Doesn't his face drop in shame before lifting it to face Allah

?5
All Sinful Deeds:
Backbiting, gossiping, lying, cheating, causing distress to others and so on are actions that are forbidden by Allah

. But we expect Him 

to answer our prayers while we continue to disobey Him!
What audacity do we have to stand before our Lord and ask Him

for His bounties when we are doing exactly the opposite of what He has instructed us!
But There Is Hope……
There is another side to the question that we began with. Those who are obedient to Allah

, who are sincere in their actions, who abstain from sins fearing the punishment of Allah

and who do good seeking the pleasure of their Lord do not despair if your dua' is not answered!
"Or do you think that you will enter Paradise while such [trial] has not yet come to you as came to those who passed on before you? They were touched by poverty and hardship and were shaken until [even their] messenger and those who believed with him said, 'When is the help of Allah?' Unquestionably, the help of Allah is near." (Surah al-Baqarah, 2:214)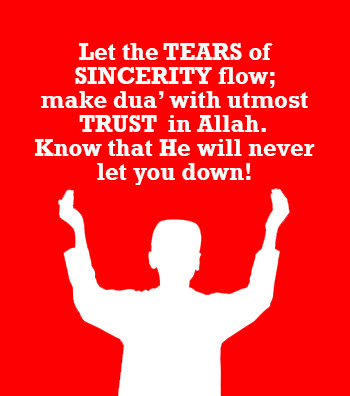 This is just a test. And no one in his right state of mind would want to fail this test as the rewards are humungous! If the Messenger of Allah

, the one who Allah

has Himself consoled in the Qur'an 6 is being tested, where do we stand O Muslims? Do not give up, for our Lord is with us. Let the tears of sincerity flow; make dua' with utmost trust in Allah

. Know that He will never let you down!
Prophet Muhammed

said, "When Allah loves a servant, He tests him,"7
Also, in a hadith qudsi, Allah

tells Jibreel to delay the response to the dua' of a servant because Allah

 loves hearing his voice! 8
Remember, our dua's do not go waste. Scholars have pointed out that when Muslims make dua', it is heard and accepted but this acceptance, however, can be in a number of different ways.
"Either Allah will respond and fulfill the desire of the person who made the dua', or He will ward off some evil from him because of the dua', or He will make something good easy for him to attain because of it, or He will save it with Him for him on the Day of Resurrection when he will be most in need of it." 9
Ask, Even If It Were For A Broken Shoe Lace…..
Ibn Rajab rahimullah said:
…..Allah likes His slaves to ask Him for everything that is in their spiritual and worldly interests such as food, drink, clothing etc, and to ask Him for guidance and forgiveness. In the hadeeth Thabit Al-Bunani narrated that the Messenger of Allah  said:"Let one of you ask his Lord for his every need, until he asks Him for salt, and asks Him for the strap of his sandal when it breaks." 10 it says: "Let one of you ask his Lord for everything that he needs, even a lace for his shoe if it breaks." Some of the salaf used to ask Allah in their prayers for everything, even salt for their dough and food for their sheep. In al-Israa'eeliyyaat it is narrated that Moosa alayhisalaam said: O Lord, I have some worldly needs but I feel too shy to ask You. He said: Ask Me even for the salt for your dough and food for your donkey.

Whatever a person needs, if he asks Allah for it, then he has demonstrated his need of Him, and that is something that Allah loves. Some of the salaf would feel too shy to ask Allah for their worldly needs, but following the Sunnah is better. 11
Brothers and sister in Islam, ask Allah

! The Prophet

has told us:
"Verily your Lord is Generous and Shy. If His servant raises his hands to Him (in supplication) He becomes shy to return them empty."12
As for those of you who have drowned in the glitter of this worldly life and have strayed far away from the commands of Allah

, repent to the Merciful and seek His Forgiveness. Make tawbah and turn to Allah

in sincere repentance.
Don't you want to taste the sweetness of Allah's miracles in your life too?
Have you experienced the miracles of dua in your life? What advice would you like to give to others reading this article? Please share your views in the comments section below. 🙂
References:

Comments
comments