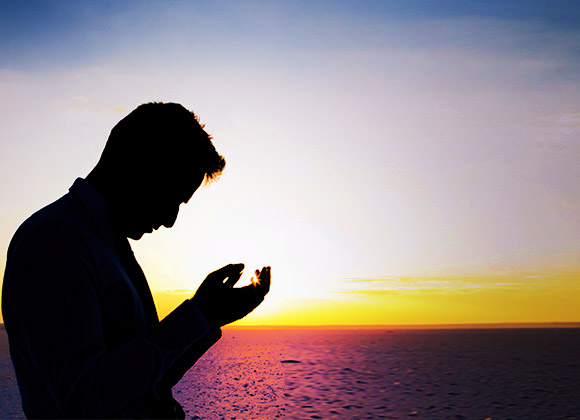 It has always fascinated me how Allah

 says in Surah Al Baqarah ayah 185,
"Allah  intends for you ease and does not intend for you hardship".
By negating the opposite, Allah

 emphasizes that truly, it is in fact, ease, that He intends for us through Ramadan. Despite this though, the first thought that crossed my mind when I thought of Ramadan was that this is a difficult month of deprivation from even permissible actions: long hours of enduring hunger and unbearable thirst, disturbance of the sleep cycle by standing the night in prayer and so on. All of these reasons at first thought, made me question where exactly the ease lies, for it all seemed like a series of hardships to me.
I later realized that this incredible concept cannot be understood by people of narrow perception. Perception of the immediate. The now. Rather, with an open-mind and deep reflection, we see that this rich concept actually reflects long-term ease and success, at the expense of short-term difficulties and hardships.
A good friend of mine saw a very easy upbringing growing up. Her parents were mellow and laid-back, leaving her decisions to her freedom of choice. I remember her often saying that she had never heard her parents say "no" to her; without restrictions, she was free to do as she liked. Once when I was eight, she came over to play; walking around the house with soiled shoes, jumping on the sofas and playing pranks on the neighbors. I had felt a slight uneasiness of restriction when I compared my life with hers, as I grew up in a household of expectations and guidelines. Almost a decade and a half later, we got a chance to meet up at a local coffee shop. After a bit of reminiscing on our past, she told me how her parents were no longer together and that she had dropped out of school due to a relationship. By the end, her tears flowed uncontrollably as she sobbed about how she felt her life had hit a brick wall. I thought to myself, she spent her childhood in apparent freedom, but that short-term ease caused her long-term grief.
When I was in eighth grade, I made acquaintance with a girl during lunch one day. After a few exchanges, our bond strengthened as we became good friends, sisters even. Her work ethics, dedication and commitment to her education got her name plastered at the top of every honor roll, ma sha Allah. Her mother invited us over one afternoon, and our mothers talked while we listened. For the first time, I realized that my best friend had seen an array of difficulties in her childhood; she lived with her single working mother, grandmother and uncle. Her grandfather, whom she had been very close to, had recently passed away. Moreover, raised in a home of rules and expectations, the only places her mother allowed her to visit included school and the Masjid. Her socializing, involvement and education all occurred in school; thus with all distractions removed, she focused her complete attention on her studies, participated in class discussions and always excelled in every test. She graduated high school as Valedictorian, ma sha Allah. Studying on a complete scholarship, she worked her way through her undergraduate engineering degree. I recently got a chance to speak with her, and she explained how she had just applied for masters at a prestigious university and was currently looking for a job before settling down. Her voice, filled with excitement, contentment and relief proved that those few early years of dedication and difficulty were paying off with a future of ease and relaxation alhamdulillah.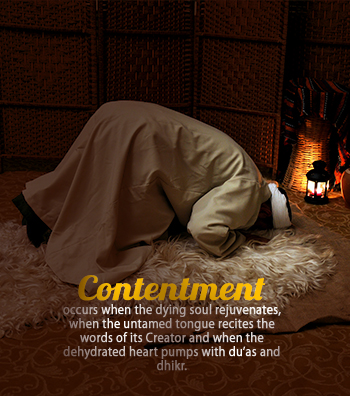 If you were given the choice to choose between: effortless ease and success but only short-term versus one requiring effort but yielding long-term contentment, which would you choose? True ease and contentment is one that is long lasting. One that is permanent. In exchange for a bit of effort and sacrifice, Allah Al Hakeem promises us true ease through the blessing of Ramadan, not only in this dunya, but also in the timeless akhirah. In our limits of humanness, we tend to be nearsighted, looking only at the immediate. Yet, here is Allah

 observing the road ahead for those who accept His incredible transaction. A transaction which requires little investment on our part compared to the limitless profit.
The hunger. The thirst. The sleep. What seemed like a series of hardships at first, in reality, have turned out to be steps to a whole lot of ease and contentment. The contentment which occurs when the dying soul rejuvenates, when the untamed tongue recites the words of its Creator, when the dehydrated heart pumps with du'as and dhikr, when the dry eyes weep out of love for its Master. Attaining Al Firdous, the ultimate and eternal success, is actually possible through the venue of Ramadan by the mercy of Allah Ar Rahman. May Allah 

 grant us the tawfeeq to taste the true ease and success of Ramadan not only in this month, but also beyond, ameen!
Please share your suggestions on how you keep yourself motivated throughout  Ramadan. We would love to hear from you. 🙂 You can comment using Facebook and Google+ as well. Just see comments section
Comments
comments