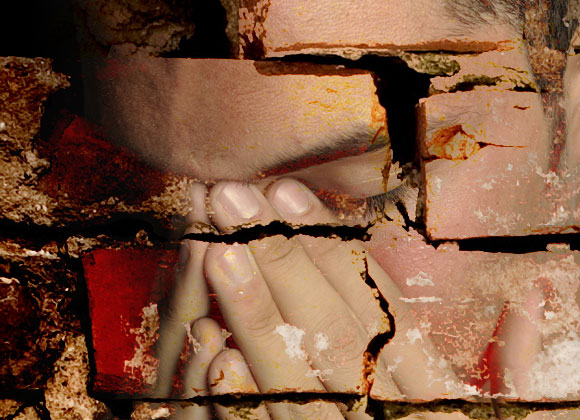 1 in 4 is the amount of people we are told have, or will have, a mental health problem at some point in their lifetime. 1 In fact, recent research puts this figure higher, at 1 in 3. 2 Is it any wonder when we are constantly bombarded with images of suffering and destruction worldwide or faced with the effects of discrimination? This figure does not exclude us as Muslims. We should not regard this with some form of arrogance that we are immune to mental health problems just because we are Muslims. The only thing that does make us different is that we have Islam to guide us through such problems, alhamdulilah. 
These figures actually suggest that it is highly likely that you know at least one person who is currently facing a mental health problem, even if they have not divulged such information. Unfortunately, despite such a high prevalence, there still exists stigma around the issue, particularly in some Muslim cultures. 
Despite the Islamic solutions to coping with and curing mental health problems, social stigma around mental health can cancel such positive effects, considerably decreasing the quality of life for the one fighting a mental health problem. It's high time that we as Muslims, face up to the facts – mental health problems do exist, and yes, they are present in members of our Ummah (1 in 3 or 4).
Sitting back and ignoring this issue will not help our Ummah in any way. In fact, it will only hold us back from moving forward by not supporting our own brothers and sisters that are in need, that are right on our doorstep, in our own communities. In the Prophet's

time, stigma did not exist, so why do we allow it to happen today? People in his 

time were not afraid to come forward and ask for his advice and help when faced with mental health issues and they were not discriminated against for doing so. If we are truly following the Sunnah of our Prophet 

, we wouldn't allow it to happen today. 

People are often afraid to approach the topic due to misconceptions about mental illness: that people with mental illness are dangerous and are not able to maintain social relationships, when the truth is that they are already going through enough trying to manage their mental health problem to have to face such stigma and discrimination. Put yourself in their shoes. Imagine a time when you felt discriminated against. Perhaps your were discriminated against for being a Muslim (or anything else: the color of your skin, your nationality, age or gender,etc.), as many of us are at some point. You might have felt like going into hiding. You might have felt like retaliating. You might have even pitied the discriminator for their lack of tolerance for something they do not understand, for basing their opinion of you on misconceptions about Islam. Remember how this made you feel. The person who is being discriminated against for having mental health problems is possibly feeling one of these things as well. These kind of feelings are what will prevent them from seeking help for their problem which can have devastating knock on effects. They might have a hard time going forward to seek the necessary treatment for their illness, whether it be through Islamic or medical means. This will lead their illness to get even worse. 
Stigma is not the problem of the one with the mental health problem, but the problem of the misunderstanding community. This is something that must be addressed if we are to move forward successfully as a united Ummah. Often, you might not feel like you are treating someone differently or stigmatizing a person because they have mental health problems. However, stigma can often be manifested in more discrete, covert ways. It might be in the way you look at them, or the way you fail to include them in conversation that has more of an impact on them. It may also be overt when you abuse them verbally or physically.
People with mental health problems need support, to know that people care, not to be discriminated against. It is not Islamic to treat anyone this way, Muslim or non-Muslim. All of us have a responsibility to make the issue of mental health one that can be discussed freely without fear of discrimination so that our brothers and sisters who are silently battling with such problems can feel comfortable to come forward and talk about their problems and seek the necessary assistance to help them get through their illness, insha Allah. 
May Allah 

make it easy for us to make mental health a topic that is embraced fearlessly and may He

help our brothers and sisters with mental health problems to overcome their illness successfully.
Please let us know your suggestions and ideas on how we can overcome the stigma that's attached to mental health  in the comments section below. We would love to hear your views.

  World Health Organization, 2001 ↩
Comments
comments