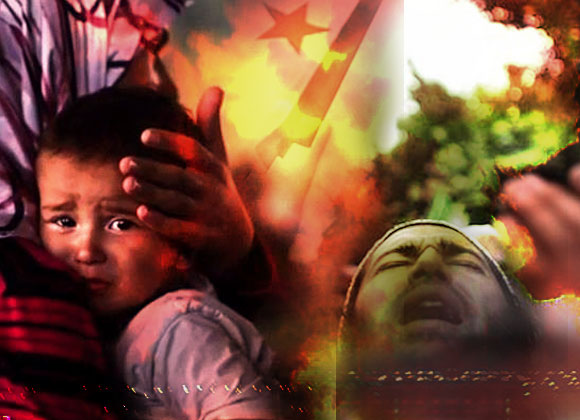 "So what are the symptoms again? Just a blockage?"
"No sir! It's not JUST a blockage! As I explained over ten times, my son is sick. He also has special needs, which makes him physically incapable of blowing his nose. Will you please prescribe something to help him breathe instead of asking me the same questions over and over AGAIN?!"
I'm ashamed to admit I was losing my temper. But in my defense, it was a long weekend, there were no reachable doctors around, my son hadn't slept in three days because he wasn't able to breathe at night, and this clueless pharmacist was my last resort before checking myself into a mental institution. Seventy-two sleepless hours and still counting, I sit on my son's bed, worried he would turn blue from the loss of oxygen. (Doctors said it wasn't possible since he can still breathe from his mouth, but I'm a mom, and I'm sticking to my legitimate fear).
In an attempt to keep my eyes open, I browse through Facebook and Twitter and I see a flood of the same posts on everyone's timeline; a picture of a cute toddler in a red T-shirt and blue shorts, taking a nap on the shore of some beach. I wondered why his parents would photograph him instead of changing his wet clothes and put him in a cozy bed. Until I read the title and realized he wasn't sleeping…..
He was dead…
And I suddenly felt my heart stop and shatter into a million pieces….
I avoid politics the same way people run away from the plague, but the message behind this picture is so intense, it draws in even the cruelest, most careless hearts. They call it the 'Syrian Crises', and apparently, for the past four years we've been blind to it. We've been asleep until the death of this child woke us up. 

Except, we get to move on with our lives, order our fast food and watch our favorite TV shows. We're able to do that because while the pictures unconsciously add to our invisible emotional baggage, we aren't living the events. We've been injected with daily doses of sadness, until we forgot what true joy really means. Who is doing this to us? And more importantly, why do we allow it?
If you're one of the people who saw these pictures, then welcome to the land of no return. Whether you know it or not, something is broken inside of you, and this why you live with a heavy heart. I promise you won't be able to fix it until you feel it to the fullest, so please come with me…
This is Aylan, the sweet baby in the picture, trembling with fear in his father's arms. The sounds of bombs and screams behind them were already too much to bear. He's hungry and confused, listening to his father ask the boat man the same question over and over again.
"Are you sure it's safe? The boat is overcrowded! Should I wait for the next one?"
"No don't worry. You guys will be okay!"
Twenty minutes later, the father struggled against the huge waves that crashed the boat into pieces, trying to save his family, until his wife and two little boys drowned right before his eyes. That's when people found out about Aylan, from a picture of his corpse..
Do you see this truck? No you can't open its doors. Seventy one Syrian refugees have been locked inside. The driver who promised to help them escape the war field, ran away and left them screaming for help till they all suffocated. When the doors were finally opened, only a pile of dead bodies were dragged out to their graves. 
Over there by the border, thousands of Syrians have been detained. Inside these flimsy tents live the families who once owned beds and extra sets of clothes. This woman kneeling on the ground, she's your mother's age, and yes she's kissing the guards' hand to let her pass through. She's apologizing for not having any identification papers. It slipped her mind to fetch them before fleeing her burning house with the rest of her family. Their cousins and friends can't reach them, for all communication has been cut off. The children being raped, women being tortured and men killed are all unidentified, only through the sounds of their desperate screams. Over four million stories of lives as unique as yours and mine, are left untold. Except till perhaps the Day of Judgment, when God asks us if we did anything to help….
I can't sleep because my son is uncomfortable, even though there's a roof on top of our heads and locked doors keeping us safe. He rests his head on a lavender scented pillow, well fed in dry clothes and with a cabinet full of medicine for emergencies. Yet, I worry about him, the same way you do about your own loved ones. But now, the picture of this toddler haunts me. I'm trapped in the land of no return, just like you. The overdose of sadness is turning some of us into helpless zombies. We watch the German civilians welcome our brothers and sisters with balloons and teddy bears, and our hearts drown in shame, into the deepest pit of misery.
And then we come across this picture of a smiling Syrian refugee hugging his little daughter happily. He used to sell pens on the street, holding them like they were his life savings, until a picture of him went viral, and one Norwegian man helped raise $100,000 in a couple of days. His smile gives us hope that perhaps we can help too. Perhaps we can buy one less soda can or one less chocolate bar today and donate this money instead. It's not much, but trust me, it means the world to be a part of the solution…
This is where you get to make a choice…
Go back to the land of no return, and live with an invisible load on your heart…
Or press this link to change the Syrians' stories, and finally get some peaceful sleep at night…
I'll go apologize to the pharmacist while you decide. You never know, sometimes, the smallest things we do can be huge in the eyes of God.
This little toddler came with a big message… May we get to hug you and make you giggle when we meet in heaven, Aylan…
And until then, may we find a way to make you proud…
What suggestions do you have to help Syria and it's people? Please let us know in the comments section below.

Comments
comments