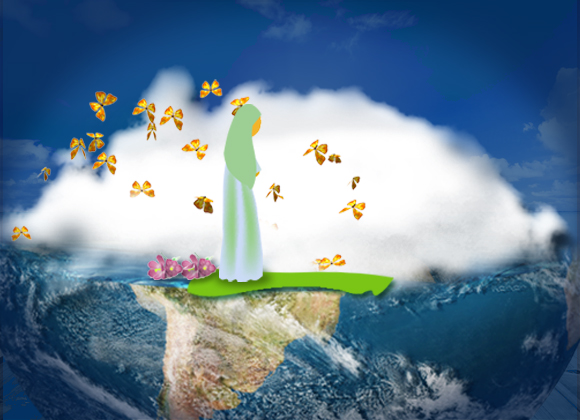 You hear it all the time- mothers expressing that they don't know who they are anymore after having children- and it makes total sense to feel this way. However, remember that it doesn't have to be this way forever.
Here are a few suggestions to help you find yourself after becoming a mother:
Change Your Thinking
The way we think impacts how we feel, that's why it is key to keep in mind that raising children does not mean our life has come to an end; rather your life has changed- and that's okay!
It's easy to slip into the mindset that children will prevent you from living life to your fullest, that you won't be as social as you once were, traveling will be harder, or that you don't have time for self care anymore; however, don't lose sight of what you are gaining.
Children will bring joy into your life, you'll get to see them reach important milestones, grow into kind adults- all of which will give you a fulfillment you will get otherwise.  
Finding Peace In Prayer
It's beautiful how a time of chaos (i.e amidst kids crying and throwing tantrums) can be combated by a few moments of peace through prayer! When you're stressed, praying will give you that break your mind and body so desire.
No longer will your mind be stressed, instead it will be focused on Allah subhanu wa taala and you will find yourself doing back to finding the true meaning of this life- pleasing Allah.
How wonderful is it that, during five times a day, your mind and soul is in a state of peace and content via prayer?
Do What You LOVE
You may feel tired and exhausted as a mother, but don't forget to go back to the things you once loved to do, even if it's just for half an hour a day or once a week.
If you love reading, treat yourself to a new book; if you love to just be with friends, then schedule a coffee date with them whenever you can. It really is the simple things that will allow you to feel like your old self again!
Find Alternatives
Often times, we may want to do something, but then think, "wait a minute, how can I do this as a mother with children?" The solution is to find alternatives!
For example, if you love to travel, then know that you still can, but it would be best to look for child friendly resorts that can accommodate your children's needs. If you are missing going to events, then look for events that have on-site babysitting options available. If you feel lonely and want to interact with more adults, but find it difficult to go anywhere with your children, then you may want to consider going to places like an indoor playground, that will keep your children busy while you chat with the other mom's.
Do Things Together
More so than not, mothers may feel that they are not meeting their personal goals, compared to as they once were prior to having children. But what about achieving your personal goals with your family? This a great way to not only get things done, but to also feel good about yourself.
For instance, if your goal is to workout and eat healthy, then put on a fitness DVD and exercise with your children at home- I have tried this and it's an excellent way to spend time with your children, plus they are burning off their energy and you are burning calories 😉 Also, get your children involved in cooking healthy foods, like whole wheat pizza where they get to select their own toppings!
I pray that these tips will be of some use for mothers who are struggling to find themselves after having children! I personally know of the struggles we face as parents, but taking note of the blessings that come with parenthood- that is a huge blessing in itself!
Please share your thoughts in the comments section below. 🙂 ABOUT THE AUTHOR
Sumaira Zaheer holds a degree in Strategic Organization from the University of Alberta, and is  the blessed mother of three active children and a blogger at www.themuslimahmommy.com where she blogs about her personal experiences, gives tips and advice on womanhood, pregnancy, parenthood, and family life. Sumaira is also a writer for Productive Muslim and has written for several other online publications. You can find Sumaira on Instagram, Facebook, and Twitter where she tries to connect with other Muslimah's from around the world!
Comments
comments