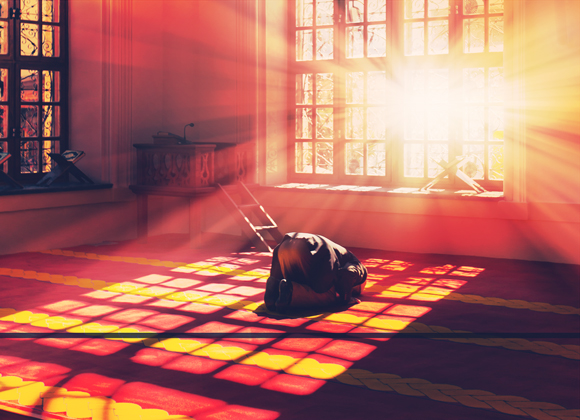 Part I | Part II | Part III | Part IV | Part V | Part VI | Part VII
One of the qualities of Ibrahim 

which is highlighted in the Quran is his willingness to surrender to the commands of Allah

. Allah

  says about him: "When his Lord said to him, "Submit", he said "I have submitted [in Islam] to the Lord of the worlds." (Surah Baqarah, 2: 131) The word Islam and Muslim come from the same Arabic root 'salama'; Islam means 'to submit' and a Muslim is a person who eagerly submits himself to Allah. This submission is not confined to certain rituals; rather it requires that we submit to Allah

and obey Him in all matters of life, whether public or private, monetary or marital, on the level of an individual and on the level of the government.
A Reminder of Servitude
Five times each day Salah (prayer) comes to remind us and test this submission; do we hear and obey?  It is such an important test that it distinguishes between a Muslim and non-Muslim.
"Between a man and shirk [associating others with Allah] and kufr [disbelief] there stands his giving up prayer." 1
If you deliberately ignore the call to prayers, it is as if you are not true in your saying 'La ilaha illallah' (There is no deity other than Allah). Because you have placed your desire, your laziness, or whatever you were occupied with, above Allah. As soon as someone accepts Islam, Salah becomes obligatory on them. Moreover, it is the first matter that will be brought to account on the Day of Judgment.
Prophet Muhammad 

said: "The first matter that the slave will be brought to account for on the Day of Judgment is the prayer. If it is sound, then the rest of his deeds will be sound. And if it is bad, then the rest of his deeds will be bad." 2
He 

also informed us, "Allah

has obligated five prayers. Whoever excellently performs their ablutions, prays them in their proper times, completes their bows, prostrations and khushu` has a promise from Allah

that He will forgive him. And whoever does not do that has no promise from Allah

. He may either forgive him or punish him." 3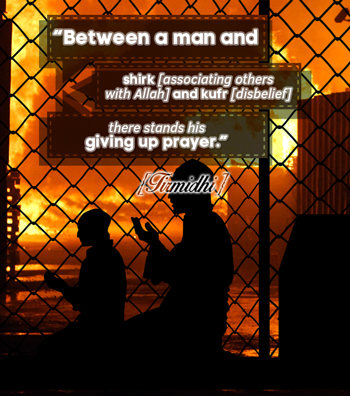 Learn the Meaning of Salah
Salah in itself is a complete and outstanding training program for a Muslim. It trains us to bow in front of Allah

, to obey each of His commands and answer all His calls, in every dimension of life. It has the capability of strengthening and empowering every Muslim against the tides of immorality, injustice and oppression. Every word in the Salah has a message for the improvement of our character.
Allah 

says in the Quran: "Indeed, prayer prohibits immorality and wrongdoing." (Surah Al-Ankabut, 29: 45)
Yet, we continue sinning and praying at the same time. Which kind of Salah will prevent us from sins? Allah 

also tells us: "And seek help through patience and prayer." (Surah Baqarah, 2: 45)
We do pray but we don't find that it assists us. Which kind of Salah will help us get closer and closer to Allah 

each day? We forget Allah

in our daily routine, and Salah comes five times to remind us of Him. We have to learn to pray such a Salah that prevents us from wrong doings, a Salah that is our greatest source of strength. For our prayers to have that spirit, we must learn the meaning and understand the implication of what we say in our prayers. When we do so In sha Allah, the prayer will become a source of relief and coolness for us.
For many of us, Arabic is a foreign language and we are only pronouncing a few rote learned sentences in our prayer. We need to stop and reflect. Does it really make sense? That we talk to our Creator, but we don't know what we are saying? Yet, this is the first step for developing Khushoo in Salah and building a strong bond with our Rabb.
This does not mean we have to master the whole language to be able to understand our prayers. If we make some effort and dedicate five minutes each day, we can easily memorize the word for word translation of Salah. How is that done? Here is a link to a downloadable file which contains the translation of Salah, translation of some short Surahs usually recited in Salah and common supplications.
Start this week by memorizing the meaning of seven words and focus on them in your daily prayers. Progress gradually and and soon, you'll be able to have a dear conversation with your Almighty Rabb.
Look out for the next articles in this series where we will discover the meaning and implication of the Adhan (the call to prayers) and other parts of Salah, In sha Allah.
Click here to download the word-for-word translation file.
Please share your valuable feedback in the comments section below. 🙂
Comments
comments