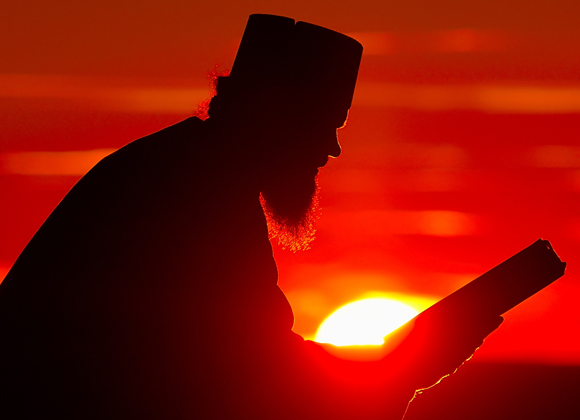 Come back to Allah. He will never forsake you.
Ramadan has ended. It has slipped away, as the day passes, leaving behind darkness of the night. It is a month mentioned in the Qur'an. It is a month we look forward to all year round, as it has the power to revive our eman, redefine our purpose, and give us the motivation to rejuvenate our efforts. It is a personal savior, a gift from God. However, after the darkness, there is no doubt that light will emerge again. This is the attitude we need to have, especially as the Qur'an is full of hope, for all those who yearn for it.
Ramadan may have not been what you wanted, but, Allah

 is still here for you. You may have have fallen short, or struggled to fulfill the basics, but still, Allah

will never forsake you. Do not let the darkness of the ocean drown you. Hold on to the hope, that the day will emerge and the darkness will be driven away.
He reminds every person who is struggling of His mercy, He said:
"O My servants who have transgressed against themselves [by sinning], do not despair of the mercy of Allah. Indeed, Allah forgives all sins. Indeed, it is He who is the Forgiving, the Merciful. And return [in repentance] to your Lord and submit to Him before the punishment comes upon you; then you will not be helped." (Az-Zumar, 39:53-54)
Allah is Al-Ghafur (The All-Forgiving), He is Ar-Raheem (The All-Merciful). His rahma (mercy) will envelope all your sins. I know many of you may have come into Ramadan with high hopes, and disappointed with the end result, but I assure you, you have not failed, even if you fell short of your own expectations. Allah

will never give up on you. He

wants you to have hope in Him. He

wants you to believe in yourself. He

wants you to believe in what you can be, not what you are right now.
The fight is not over – it has just began!
Even though Ramadan has left, it is not over. The Day of Reckoning has not come, and this is a sign, Allah

 wants to hold you to a higher standard. He believes in your potential, even if you may not. Allah

 has a message for you. He

wants you to keep going. He

wants you to keep being repentant. He

wants you turn to Him again.
This is His message of hope for you:
"Except for those who repent, believe and do righteous work. For them Allah will replace their evil deeds with good. And ever is Allah Forgiving and Merciful." (Al-Furqan, 25:70)
He

just wants you to make an effort. It does not have be big, but it must be genuine. Remember the woman who worked as a prostitute?  Allah

forgave her.
The Prophet

said:
"Allah had once forgiven a prostitute. She passed by a dog panting near a well. Seeing that thirst had nearly killed him, she took off her shoe, tied it to her scarf, and drew up some water. Allah forgave her for that." 1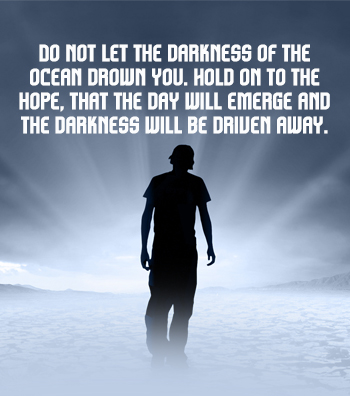 Do you know why? He

is the Ultimate Judge. He is Al-Basir (The All-Seeing) and He is As-Sami' (The All-Hearing). He

 can see and hear what others cannot. He

understands what others choose to ignore due to their own prejudices. He

truly appreciates your struggles, He

sees your tears, He

feels your heart break after a sin, and He

truly cares. You are so important to Him

.
More than you will ever know.
There is a prophetic hadith which is profound, as it a reminder for every young man, and woman who has sinned.
Ibn Mas`ud narrated: "A man kissed a woman (unlawfully) and then went to the Prophet (peace and blessings be upon him) and informed him. So Allah revealed: "And establish prayer at the two ends of the day and at the approach of the night. Indeed, good deeds do away with misdeeds. That is a reminder for those who remember." (Al Hud, 11:114) The man asked the Prophet

: "Is it for me only?" The Prophet

replied, "It is for all the people of my Ummah."
SubhanAllah! Whenever we think of the companions of the Prophet

, we view them in the lens of perfection, and for some, this makes them incomprehensible and unrelatable. But, the companions of the Prophet

 were the most relatable people you will ever meet. They were perfect examples, because they had imperfect pasts, but overcame them. They loved Allah

, and struggled, and strove until they achieved His pleasure. They did not give up on themselves, and this was their sunnah.
He

will return you to safety.
In the Qur'an, Allah

made a comparison between darkness and light, when He said: "By which Allah guides those who pursue His pleasure to the ways of peace and brings them out from darknesses into the light, by His permission, and guides them to a straight path." (Al– Maida, 5:16)
In Tafsir ibn Kathir, Ibn Kathir explained this verse. He says, Allah

 brings the believers to safety, and righteousness. He

will bring you safety. He

will protect you, even from your own self. 2
I appreciated this verse in Ramadan, 2013. I was involved a car accident as we returned from the Mosque.  SubhanAllah, our car was completely destroyed, but all of us miraculously survived. Profoundly, an ambulance was driving past as we emerged out of the car, terrified, but grateful. My cousin, a few seconds before the car crash put on her seat belt, even though she forgot when we originally began the journey. I was on the phone to my cousins, and tasted the closeness to death.
As I reflect over the accident, I came to the realization that it was Allah

who brought us to safety. He

protected us from harm. He

saved my family from darkness, and brought them light. He

gave us the opportunity to try again.
Similarly, Allah

will grant you the opportunities to come back to Him, again and again. This opportunity is for you. Grab it. Embrace it, as it is a priceless gift from Allah

, to you.
I know countless men and women who have fallen into the darkest depths of sin, only to return again. This Ramadan, whatever your state, make a firm intention to see a light at the end of the tunnel, even if it is far away. Make an intention to board the train of spirituality, even if it is late. Board it, even if you lose your train ticket, because the Driver will not fine you. He

will be merciful enough to give you the chance to purchase another one. Come aboard and do not return home. Refuse to leave the train station without boarding your train, because the mercy of your Creator is vast!
Let us enter Shawwal together, in high spirits, in hope that we will start again, even if we are in the middle of an ocean. The rescue team is near, just make the call.
Make the call, today. Raise your hands, let your tears fall, and pray. Please share your views and thoughts in the comments section below. 🙂  
ABOUT THE AUTHOR: 
Sister Alima Ashfaq is the founder and director of "I am Alima", and "Women Of Ilm". Her aim in life is to assist Muslim women in coming closer to Allah  

through Islamic knowledge. She has studied under various scholars and students of knowledge in order to gain an extra insight into her religion and to better herself in her role as an "I am Alima" instructor. Sr. Alima has been a part of various organisations and has also held a number of leadership positions. Besides this, she has also lectured in all the main Universities in the UK, including the University of Birmingham and the Sheffield University. She also has a flair for writing and has authored  Du'as of Superstars, Love Unveiled and Falling in Love. Furthermore, she has compiled and edited the Threads of Hope in conjunction with Sh. Muhammad Alshareef and I am Alima. 
 

Sahih al-Bukhari; 3143, Sahih Muslim; 2245

↩
 Ibn Kathir says: "He thus saves them from destruction and explains to them the best, most clear path. Therefore, He protects them from what they fear, and brings about the best of what they long for, all the while ridding them of misguidance and directing them to the best, most righteous state of being." ↩
Comments
comments