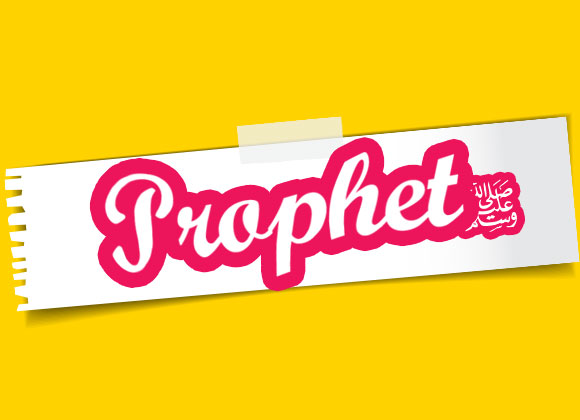 Growing up, I have a vague memory of a wall frame that adorned our home. It was covered with writing and for this reason, I never paid much attention to it. The most fascinating thing about it was the background – mostly blue and brown showing a mountainous terrain.
I discovered later on that the writings were words from the Prophet's 

last sermon in the 'Uranah valley of mount Arafat (Makkah). I'm not sure what became of the frame, it likely ended up in storage. The message it carries, however, is not meant for storage – to become abandoned and forgotten. Rather, it should be stored in our hearts and utilized in our daily lives.
Listen below are 8 Personal Development Lessons for your Spiritual and Self growth (from the sermon).
1. Uphold consciousness of Allah

Sermon: "Remember, one day you will appear before Allah and answer for your deeds. So beware, do not astray from the path of righteousness after I am gone."
Tip: Engage in righteous deeds and ask yourself each night: Will Allah 

be pleased with my deeds of today? How can I make tomorrow more pleasing to Allah

?
2. Prioritize on your acts of worship starting with the 5 pillars

Sermon: 'O People, listen to me in earnest, worship Allah, say your five daily prayers (salah), fast during the month of Ramadan, and give your wealth in zakah. Perform hajj if you can afford to."
Goal: Master the five pillars with sincerity, excellence and devotion.
Tip: Schedule your daily prayer times on your phone as appointments – with reminders before and during scheduled times.
3. Be a conveyor of the message of Islam

Sermon: "All those who listen to me shall pass on my words to others and those to others again; and may the last ones understand my words better than those who listen to me directly."
Goal: Become one who invites to Islam.
Tip: Share this article or at least one point of benefit with others.
4. Use Quran & Sunnah as reference points
Sermon: '"O People, no prophet or apostle will come after me and no new faith will be born. Reason well, therefore, O People, and understand my words which I convey to you. I leave behind me two things, the Qur'an and my example, the sunnah and if you follow these you will never go astray."
Goal: Study the Qur'an and sunnah through authentic channels such as IOU.
Tip: Make it a daily habit to reflect on at least one verse of the Qur'an and a hadeeth in a language you understand.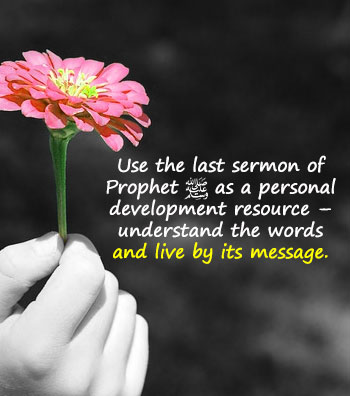 5. Take note of Shaytan's presence and plot to corrupt your heart and soul
Sermon: "Beware of Satan, for the safety of your religion. He has lost all hope that he will ever be able to lead you astray in big things, so beware of following him in small things."
Goal: Distant yourself from Satan; avoid sins and bad deeds.
Tip: Avoid sins and bad deeds by indulging in doing more good deeds (to wipe out your sins), repent, read about Satan's plots [read Ibn Kathir's 'Stories of the Qur'an'].
6. Uphold true brotherhood – say NO to racism, tribalism and nationalism
Sermon: "All mankind is from Adam and Eve, an Arab has no superiority over a non-Arab nor a non-Arab has any superiority over an Arab; also a white has no superiority over black nor a black has any superiority over white except by piety and good action. Learn that every Muslim is a brother to every Muslim and that the Muslims constitute one brotherhood."
Goal: Treat fellow Muslims as equals.
Tip: Read stories of the Prophet's companions.
7. Be attentive
Sermon: "O People, lend me an attentive ear, for I don't know whether, after this year, I shall ever be amongst you again. Therefore listen to what I am saying to you carefully and take these words to those who could not be present here today."
Goal: Listen and pay attention to people and happenings.
Tip: Use your senses to capture information correctly – through writing, active listening, etc.
8. Be just, trustworthy and interest-free
Sermon: "O People, just as you regard this month, this day, this city as sacred, so regard the life and property of every Muslim as a sacred trust. Return the goods entrusted to you to their rightful owners…"
…"Allah has forbidden you to take usury (interest), therefore all interest obligation shall henceforth be waived. Your capital, however, is yours to keep. You will neither inflict nor suffer any inequity."
Goal: Be 'just' in your interactions.
Tip: Manage people and money with a just and pure intentions, knowing that you will be held accountable in front of Allah

.
A Message for All Times

The Prophet's

last sermon is a message for mankind today and for all generations to come. It lays out basic principles for getting the best from oneself as well as benefiting others. Reflecting on its message is a good exercise. Applying its lessons can be equated to a similitude of using the rights tools for the right task – improving one's life holistically.
Although, I have not seen our old family frame in a long time, the message it carries lingers in my life. I encourage you to use it as a personal development resource – understand the words and live by its message.
What other tips can you share on how to make the Prophet's last sermon relevant and practicable in your life today? Please share in the comments below.
Comments
comments