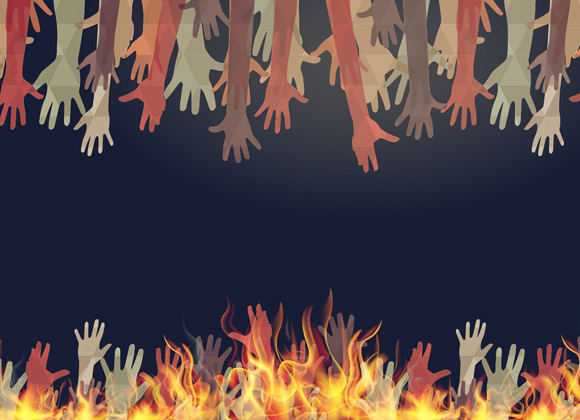 The easiest  dawah is dawah given to strangers. When we talk to them, we are free from worries. We don't know their likes or dislikes. Our tone is stress-free while conveying our points to them for they know nothing about us personally.
Things are totally opposite when it comes to giving Dawah at our home or workplaces with our friends and family, especially when they are elder to us. Our nerves feel like they are going to shatter and our courage fades when talking to parents, uncles/aunts, cousins, etc., when we want to discuss about creed or fiqh. This is natural because by nature, we fear offending those that are closest to us. Our love and sometimes, our respect for them makes us defensive. Additionally, they are well-aware of our loopholes and bring out our past mistakes into the conversation, making the situation more adverse.
Anger from their side can be because of two reasons:
The message that is being conveyed, and

The way it is being conveyed.
In Islam, the latter has a solution while the first reason has to remain in your conversation at any cost.
Surah Maryam gives an amazing story of Ibrahim

who asked his father to stop worshiping idols and to follow only One True Creator. The Quranic narration  "Ya Abbati " – "O my Father ! " (Surah Maryam 19: Verse 42) reflects his lovely tone and teaches us how to speak whilst talking to family. At the same time, it also tells us that one can't do anything if someone finds the Truth to be offending. It can gp to such an extent that you face a complete family boycott. If this does happen, depart with peace.
In the same surah, a few verses later, Ismail 

is also mentioned. Verse 55 of Surah Maryam says : "And he used to enjoin on his family and his people As-Salât (the prayers) and the Zakât, and his Lord was pleased with him." The Arabic word "ka-na" means something which one keeps doing with repetition, he keeps on reminding, on a daily basis for his entire life. We on the other hand, get offended too quickly because we want results overnight.
It's relatively easier to convey truth to outsiders but the real potential of a Daee will be tested when he preaches to his family members and manages to achieve this goal even though they know his flaws.
Many sentiments are involved here. But the results are enormously fruitful. When you preach to them, you tend to eliminate/rectify your flaws too. If they end up listening to you, your house becomes an organization of Muslims preaching peace and harmony. This can immediately cause a ripple effect in our society. Doing good deeds become easy, bonding with our family strengthens up and making others understand our problems become easy. Most importantly, you can look out for a beautiful reunion in paradise.
Allah reminds us about this obligation in the Glorious Quran:
"O you who believe ! Save yourself and your family from hell fire.." [Tahrim 66: 6]
Now, the question is, have you ever thought about your family and close ones? How have you approached them while giving dawah? Please share your suggestions in the comments section below. 🙂

Comments
comments