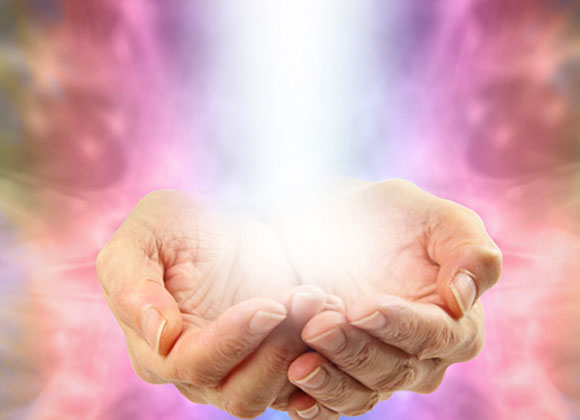 This world is a beautiful place! It is without a doubt a prison for the believer, yet Allah

still adorned it with countless beauties that we need to be taking the time to truly appreciate. This beauty is both a gift and a test, and it us who choose if we are to punished or rewarded for them. Are we going to be grateful and use these gifts to benefit ourselves and the ummah, or are we just going to enjoy them while they last without considering accountability on the day of judgement? We have been given the authority to decide for ourselves.
Beauty surrounds us from all directions, yet I will be emphasizing three aspects in this article:
1) Beauty of nature
2) Beauty of people's help
3) Beauty of Allah's 

never-ending blessings, Alhamdulillah
1) How many times do we pass by a breathtaking view, admire the scenery swiftly, take a couple of pictures and then drive by? We may utter SubhanAllah or mashaAllah but does that really count as appreciating the beauty of Allah's creation or truly admiring His Magnificence and Perfection?
Allah

says:
"…and give thought to the creation of the heavens and the earth, [saying], "Our Lord, You did not create this aimlessly; exalted are You [above such a thing]; then protect us from the punishment of the Fire." (Āli `Imrān, 3:191)
And in another ayah:
"And it is He who spread the earth and placed therein firmly set mountains and rivers; and from all of the fruits He made therein two mates; He causes the night to cover the day. Indeed in that are signs for a people who give thought." (Ar-Ra`d, 13:3)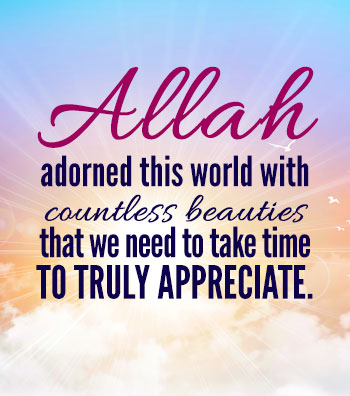 Allah

says, "give thought", hence we are not meant to admire a scenery without giving thought to Allah's Greatness and Power. Instead, we should be reaffirming our faith by asking ourselves questions and truly introspecting and reflecting upon Allah's extraordinary qualities. Similar scenarios would be like this: "SubhanAllah, the skies above us have no pillars to support them, yet they are still above our heads. Can a human being do such a thing? Never. How High and Exalted He is." Or "MashAllah, how these splendid colors of leaves emerge together in different shades to create a picturesque view is just mind blowing! Their different shapes, sizes and colors are nothing but a reminder of His Supreme Excellence."
Has it all been created for no use? No, rather they are signs for those who reflect! Who could create such beauty but Allah

!
2) Many a times, we receive help from other people. It could be from friends, family or even strangers sometimes. It could be a word of advice, physical assistance or any other kind of help, and the effects of that on us vary accordingly. However, other than merely saying "thank you" or "jazakAllah khair", how else have we shown appreciation for receiving help? Did we just utter these words half-heartedly due to formalities and "good" manners or did we actually mean it? What has to be highlighted is that sometimes people come out of their comfort zone, give up their time and actually put in effort to help us. How beautiful is that and HOW can we so easily disregard that?
We learn a beautiful lesson from this hadith:
"Narrated Abu Hurayrah: The Prophet said: He who does not thank the people is not thankful to Allah." 1
We have to learn how to *truly* appreciate other people's help, let the words of gratitude you utter flow naturally from your inner heart, and make sincere dua' for them as well.
3) Allah's 

blessings, is there a limit to that…
Allah's

blessings include our *daily* access to clean water, unpolluted air, food, clothes, shelter, family, friends and so much more. SubhanAllah! Every time we feel guilty for not being appreciative enough or for taking things for granted then we should simply visit some of the poorer families in our neighborhoods and reflect upon how they are living without the necessities and basics, yet manage to be grateful and content with what they have, knowing that many others may be worse off. Watching videos of those who are struggling to survive amidst chaotic conditions also helps. It makes us utter "Alhamdulillah" from deep within our hearts.
In addition to this is the talents, hobbies and skills that Allah

instilled within us. Some have discovered them and used them for the sake of Allah

, something to be truly appreciative of because many others are yet to find out what hidden talents they have been blessed with. Moreover, Allah

continues to shower His blessings upon us every time we show sincere gratitude. Allah

says:
"'If you are grateful, I will surely increase you [in favor]; but if you deny, indeed, My punishment is severe.' " (Surat 'Ibrāhīm, 14:7)
For those who are still searching, try sitting down with yourself and looking deep within your heart in order to inspect and establish that which you enjoy doing and are able to serve the deen with.
By acknowledging, enjoying and thanking Allah

for His endless mercy, love and bounties, we would be able to live a happy, content life away from worries and dissatisfaction.
The Golden Tip: Ponder on the creation of Allah

, thank people sincerely for their help and benefit from Allah's blessings in a positive manner.
Oh Allah, allow us to recognize the blessings in our life, whether they may be obvious or in disguise, and to be thankful for them. Allow us ya Allah to be grateful in times of ease and to be patient in times of hardship, Ameen.
Please share your views about this article in the comments section below. 🙂

Comments
comments