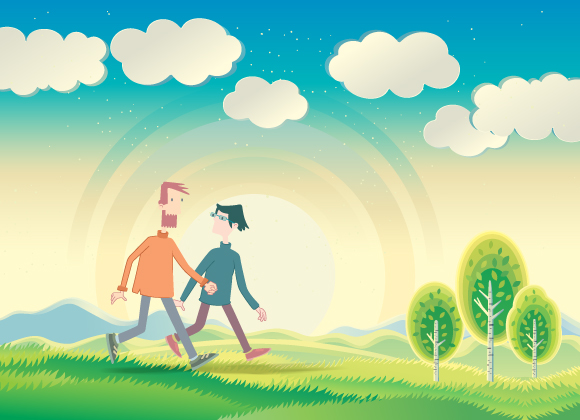 Friendship can be described as one of the most intimate relationships, every individual can ever possess in their lives.The affinity and mutual love of human hearts give birth to this beautiful bond. Maybe that's why they say, "Birds of the same feather flock together". "Identity" is another name for friendship. A person can be defined by the qualities of the friends he or she chooses to be with. Friends circles and the people a person hangs out with, can evidently expose the likes, dislikes, preferences, life style, choices, behaviors, family backgrounds and most importantly his/ her religious stance to the outside world. You've heard the old saying, "A friend in need is a friend indeed", but what if I tell you, "A Friend in Deen is a Friend Indeed".

Friendship is not a one way relationship, rather it's a matrix through which attributes and behaviors are given to, and adopted from mutual human souls .That's the reason The Prophet

said :
A man follows the religion of his friend; so each one should consider whom he makes his friend. 1
From the above hadeeth, we can understand that since friendship decides a person's religion, each one of us should be smarter enough to select our friends from the crowd.
If a friend brings more harm than the good, he surely provides us with bad company. If he brings more good than  harm, he provides us with good company. But this basic scale can be invalidated with the power of human emotions and thus, Islam as always, has a better scale to find the best of friends !
Islam is a way of life, which is something more than a set of rituals. Therefore, the Islamic code of conduct has got few things to say about choosing our friends in life, which is very much important for all of us. Prophet Muhammad

  has left us with a mind blowing parable of this relationship:
Narrated Abu Musa  :Allah's Messenger  said :

'The example of a good pious companion and an evil one is that of a person carrying musk and another blowing a pair of bellows. The one who is carrying musk will either give you some perfume as a present, or you will buy some from him, or you will get a good smell from him, but the one who is blowing a pair of bellows will either burn your clothes or you will get a bad smell from him". 2
This hadeeth is powerful. Let's extract the priceless lessons from this hadeeth! 
Traits of good friends
Good friends are like musk sellers. Everything about them is beautiful. We can enjoy good fragrance from them and/or buy scent from them. They may even gift something from their possessions. If we depart from them after being with them, we carry the fragrant smell with us too. Everything about them turns to be aromatic in this companionship.
In terms of real friends, they are people who are good, wish good for us, do good, and leave us with good traits of friendship.  They bring us closer to Allah

 and strive with us in the cause of Allah

. They struggle with us against all that which Allah

 has prohibited. Even in their absence, their  friendship will always have a positive influence over us.
Traits of bad friends
Bad friends are like blacksmiths. Everything about them is unpleasant. We can get disturbed by the bad smell of bellows or get hurt by the heat of their occupation. They may ruin our clothes with undesirable stains. If we depart from them after being with them, we would carry bad smell and stains with us as well. Everything about them turns to be disturbing in this companionship.
In terms of real friends, they are the people who are bad, wish bad for us, do bad, and leave us with bad traits of friendship.  They drag us away from Allah

 and brainwash us to do whatever is prohibited by Him. Even in their absence, their  friendship will never fail to dominate our lives with negative influence.
Traits of a Muslim, who wants to be a good friend
Analyzing the characteristics of good and bad friends can merely bring neither good nor bad; rather, we must always cross check our own selves and strive our best to develop good qualities which are attributed to good companions.
In other words, it's not enough to make sure that our friends are carriers of musk; rather we should make sure that we are the carriers of musk as well!
Friendship is eternal they say. All in all, it follows us all the way down to the akhirah. This is a serious issue to be taken into consideration, as our friends can decide our final abode.
Let's see what Allah

 says in the Qur'an about the final destiny of the bad and the good friends;
"Oh, woe to me! I wish I had not taken that one as a friend. He led me away from the remembrance after it had come to me. And ever is Satan, to man, a deserter."  (Al-Furqan, 25:28- 29)
It's evident from the above warning of Allah

that the losers would be worried about taking wrong friends, for wrong friends had an influence over their religion.  
Allah

 further talks about friends saying ;
"Close friends, that Day, will be enemies to each other, except for the righteous." (Az-Zukhruf, 43:67)
Righteous people who made close friends in this world would remain close friends in the hereafter as well. As for those who are not righteous, they would turn out to be enemies even though they were the best of friends in this world !
Since friendship has a greater influence upon our worldly life and life after death; we must be extra sensitive when we build this sensitive bond. We should be more cautious before we choose to hang out with any friends. Moreover, last but not least, we must strive our best to develop the traits of the musk seller and abandon the traits of the blacksmith insha'Allah ! What are some of the qualities we can inculcate in our lives to be a good friend? Please share them in the comments section below. 🙂

Comments
comments